5 irresistible ideas to make the 'Month of Love' unforgettable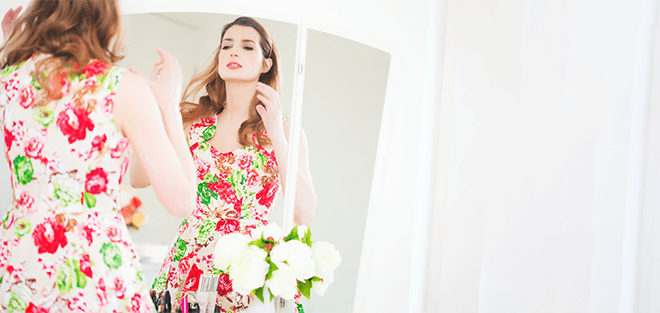 We all agree that February is the most romantic month of the year because of Valentine's Day, but why celebrate your love only on that one single day! Love should be celebrated all month long, don't you agree?
Yet, being in a relationship and keeping it interesting requires work, and celebrating that relationship needs a lot of personal care for a girl, too. After all, getting ready to spend time with that special someone is all about the preparation and making yourself accessible to being hugged, kissed and touched, right?
Here are some valuable tips to get you ready for a romantic day, night or even a getaway with him. These suggestions are guaranteed to catch his attention during any occasion.
1 – Remember, when it comes to looking your best for your significant other, it's important to make it a part of your daily routine! If you aren't already on a cleanse-tone-moisturise routine, now's the time to start. Choose a good quality face wash and body wash that cleanses well without drying your skin. Follow this up with a toner for your face and an amazing moisturiser each for your face and skin. For best results, follow this routine at least twice a day, ideally morning and before you go to sleep at night. It will give you that healthy, glow all over that he will find impossible to resist. Find the most amazing array of moisturising lotions and shower gels at www.enchateur.me
2 – Get ready for a date by giving your body some well-deserved tender loving care. Create a silky smooth body by exfoliating your skin with a gentle scrub. Here is an easy DIY body scrub recipe.
Ingredients: 1 cup coconut oil, 1/2 cup Enchanteur Romantic Body Lotion, 3 cups white sugar, 1 cup brown sugar and zest of 4 limes.
Method: Combine all ingredients together. Store in an airtight conditioner and leave for 30 minutes in the fridge. To use, take an ample amount of it into the palm of your hand and rub all over the body. Then wash off with lukewarm water. After towel drying your body, lather on some Enchanteur Romantic Body Lotion to seal in the silky-smooth goodness.
3 – If for some reason you are feeling bloated, take an Epsom Salt bath. Just add 2 cups of Epsom salt to your bath and sit for 10 minutes. The magnesium in the salt helps draw out the toxins and excess fluid from your body and leaves you feeling calm and relaxed. Just make sure to lather on an ample amount of Enchanteur Moisturising Body Lotion afterward to give skin a beautiful soft look and feel.
4 – Another great way to get his attention and add a touch of oomph to your overall look is to try out a new look. Nothing achieves this better than a new haircut. A super feminine look is a good idea on Valentine's Day. If you don't feel like cutting your locks, a good blow dry, which lends a nice, approachable bounciness to your hair could be quite alluring as well. On the other hand, even the long, messy look also works wonders for a romantic date. Braids and twists are also very much in fashion.
5 – Makeup plays a big role in a girl's life. Some girls like that barely-there look, while others love experimenting with different shades and vibrant colours. What's most important is that makeup is indeed a girl's best tool when it comes to changing up her look. Do something different in terms of make-up to distinguish how you look. After all, a special date requires some special attention. So if you're someone who always uses soft, nude shades, dramatize your pout with red lipstick. The shade is likely to make your date swoon.