Effective Home Remedies for Winter Skin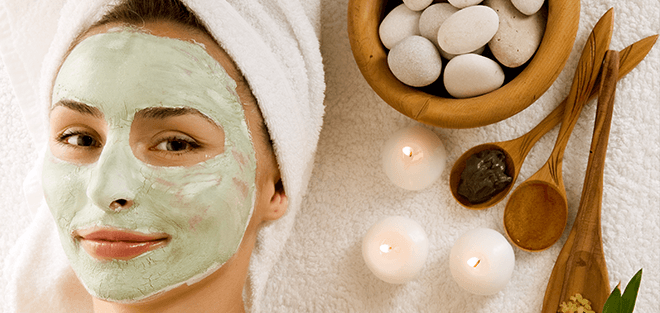 While colder weather finally means you get to pull out those gorgeous woolen shawls and high-heeled boots from the back of your closet, it is definitely not a good time for your skin. The cold air and low humidity levels rob your skin of all its moisture and could lead to it cracking or even bleeding. What's more, even the hot showers and baths we tend to indulge in during this period could result in dry skin. So lots of moisturisation is very, very important and should be a part of your daily skincare routine.
While lathering up on body lotions help, you still need to do a bit more to combat these harsh effects on your skin and keep it looking beautiful and healthy, all season long. Here are some amazingly easy to follow ideas and tips to help you through the winter months.
1 – Hot showers and baths may be a heavenly way to warm up after coming in from the cold, but do your skin a favor and avoid them as much as you can. This is especially true when it comes to your face and hands. Instead, choose lukewarm water so as to prevent the skin's natural oils from being stripped away.
2 – One of the best ways to ensure your skin stays nourished is to ALWAYS moisturise after a wash. Apply a good body lotion to damp skin, this will seal the moisture into the skin. Make it a habit by keeping a bottle of your favourite Enchanteur Body Lotion near the bathtub, shower stall and at every sink in the house, including the kitchen. This will constantly remind you to moisturise.
3 – Just as the air conditioner strips skin of moisture during the summer, heating systems dry the air in the winter and affect your skin in a negative manner. Installing a humidifier in your home and office could help put moisture back into the air and prevent your skin from getting too dry.
4 – It is true water is life, no matter what the season. While the cold weather does tempt us to opt for hot drinks like cocoa and coffee instead of regular water, it is essential that during this time you must drink lots of water because your skin needs to be hydrated from the inside out. Warm water with a slice of lemon and a sprig or mint could be very refreshing and hydrating at the same time.
5 – Certain areas of your body like your hands, feet, elbows and knees have thin skin and therefore tend to get dryer and lose moisture faster. A great way to replenish these areas is to slather on a moisturising lotion like Enchanteur NourishingSoft at night. Even better, wear socks and some cotton gloves to seal in the goodness till morning.
6 – During winter, we tend to forget that we need to keep exfoliating our skin just as much as we do during other seasons. This is a vital process in order to get rid of the dead skin on our skin; moisture can't get in if the dead cells is a lot. One of the best ways to do this is to use body scrubs, as they slough away dead cells and nourish the new skin beneath, leaving you soft and glowing all over. Here are some easy-to-make DIY body scrub recipes to revitalise your skin from top to toe:
Refreshing Morning Scrub
• 1 cup olive oil
• 1 cup sea salt
• 1 tbsp lemon zest
• 2 dollops Enchanteur Charming Body Lotion
Mix all ingredients together and store in an airtight Mason jar. When using, wet your skin in the shower, then gently massage the scrub all over yourself to exfoliate. Rinse thoroughly with lukewarm water, pat dry and immediately moisturise with Enchanteur Charming Body Lotion.
Fragrant Rose Petal Scrub
• 1 & 1/2 cups brown sugar
• 1 cup coconut oil
• 1 or 2 dollops of Enchanteur Romantic Body Lotion
• Petals from one pink rose
Pour the coconut oil into a Mason jar and scatter in a handful of rose petals. Then add the sugar and Enchanteur Charming Body Lotion. Store the jar in the fridge for a couple of days before using so all the ingredients infuse beautifully together. When you're ready to use it, mash it all together with a large spoon. Then take a good amount and slather it all over your body and gently massage into your skin. Rinse in lukewarm water and pat dry. Do not forget to seal in the moisture with Enchanteur Romantic Body Lotion.
7 – Remember, winter skin is very fragile, so keep away from allergy triggers like irritating fabrics such as wool and chemical-laden detergents. Instead, opt for mild cleansers and moisturisers designed for sensitive skin.
8 – Another amazing way to pay your skin some extra attention during the winter months is to pamper it at least once a week with a good natural mask. DIY homemade hydrating masks can provide good moisture. Just ensure to leave them on the skin for at least 30 minutes to guarantee lasting hydration. Here are some easy-to-make masks to cure the winter blues:
Nourishing Oatmeal Mask
Equal amounts of oatmeal flakes, honey and yoghurt. Mix everything well and then spread this paste on your face. Allow it to sit for 30 minutes and then rinse off with lukewarm water. Do it at least twice a week for good results.
Deeply Hydrating Banana Mask
Mash half a ripe banana in a bowl, mix in 1 tablespoon of yoghurt and 1 tablespoon of honey. Apply it on your face and leave it on for 20 minutes. Then wash off with lukewarm water. Repeat it at least 2-3 times a month for effective results.