8 cute ways to surprise your significant other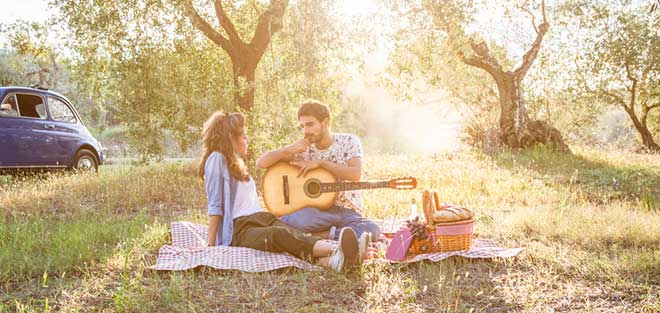 No matter the stage your relationship is in, you can always add some excitement to it. Romantic surprises for your sweetheart are a great way to do this. They are also a lot of fun to organise. Here are some ideas for you to use as inspiration. Time to go crazy in love, girls!
1 – An impromptu candlelight dinner
When your sweetheart comes home from a hard day at the office, surprise him by preparing his favourite meal and serve it to him in style. Just before he enters, dim the lights, put on some soft, relaxing music and light up the candles. It will also help if you dress for the occasion and spritz on some of your signature perfume, which he loves. The expression of surprise on his face will be worth every bit of the effort.
2 – Tickets to a game or concert
If you know of an upcoming concert your man really wants to go for or a game, say football, cricket or tennis, which he's dying to see live – buy the tickets and keep the romantic surprise for a day or two before the event! The perfect way to give it to him is to take him for dinner and get the waiter to give it to him with dessert. Now, wouldn't that be a moment he will never forget!
3 – Top up his gas
Ask to borrow his car or better yet, take it without him knowing. When he gets into it the next time, the full tank will take him completely by surprise! Ensure he knows it's you by leaving a post-it on the steering wheel with the message, 'You fill my life with so much happiness, so I thought I'd say a small thank you by filling your tank!". It'll definitely put a big, big smile on his face.
4 – Hide romantic coupons
Nothing will surprise him more than when he keeps finding love coupons all over the place. Tuck one inside his jeans pocket, his wallet or the glove box in his car. Inside his laptop so it's the first thing he sees when he opens it. In the fridge or his toolbox. You can even order a pizza and put it inside the box. Give him some cuddle time, tickets for the two of you to a movie or even the opportunity to give you, his beloved, a massage. He'll be so excited getting all the coupons, he won't even notice that you're the one benefiting most!
5 – A romantic picnic for two
Yes, this is sneaky, but oh-so-romantic! Blindfold your partner and take him for a drive with the windows down – all on the pretence of playing a game where he has to guess where you are driving, the surroundings, etc. In the meantime, have a friend set up a romantic picnic at a pre-decided spot at the park or beach. Bring your beloved to the spot, still asking him to guess where you'll are and remove the blindfold. Just make sure to click a pic of his surprised face.
6 – Stock up his fridge
Guys love to eat but hate to shop. No wonder their fridges are always empty and tables littered with takeaway menus stacked high! A loving way to ensure he eats healthy while surprising him is to load his fridge with some delicious, easy-to-heat-up homemade meals, snacks and fruits. Then sit back and see the surprised glee on his face, the next time he opens the fridge!
7 – Involve his friends
They say the way to a man's heart is through his stomach… well, that is true, but why don't you seal the deal by getting his buddies on your good side, too! Surprise him with a fun BBQ party surrounded by his friends. He'll be over-the-moon with delight and definitely pleased by the effort you're making with his friends for him. A win-win situation for you!
8 – Impress him with your knowledge of technology
Every guy loves gadgets… there is absolutely no way getting around it. So if you can't beat 'em, join 'em! Do your research, know your facts and then surprise him with your knowledge of technology and the latest gadgets. He will not only get impressed but will also respect you more.
Girls remember, to take your relationship to the next level, you really need to put in a lot of effort. So use your imagination… go wild with the craziest ideas. Just keep thrilling your beloved over and over again. He will only keep coming back for more. Good luck!