Fun and romantic date ideas when it's too hot to go outside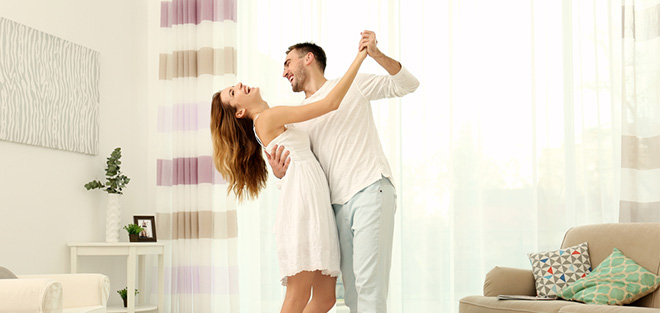 As much fun as mall or club hopping is or just walking around town is with your special guy, when it's really hot in the middle of summer, it's often too hard to do much more than gaze outside the window, while you're nice and comfortable in your air-conditioned home. But before you go on another movie marathon or binge again on Netflix, try one of these fun indoor date ideas to really get your relationship going!
Have an ice cream sundae-making contest
You pile on the m&ms, he loves his fruits. You dig roasted peanuts, he's more of a strawberry syrup kind of guy. Go ahead – show him your ice cream sundae making skills by spending some time in the kitchen and with him! The best part? The ice cream keeps you both cool while the romance gets heated up!
It's time to pull out the old photo album
You know about each other's present life, but how much do you know about the past? Spend some time going through old photo albums if you have them or even back to the very first photo you posted on Facebook or Instagram. Your baby pictures, his first tooth… even your first picture together as a couple. There's nothing like taking a trip down memory lane to bring the two of you, even more, closer together.
Play games, old school style
Ok! Ok! We know you're most probably fed up of watching him play on his Xbox for hours. But there is a way to get his competitive spirit going without technology. Play an old-fashioned board game like Monolopy, Scrabble or Ludo. Why not pull out that dusty deck of UNO or regular cards and try your hands at Bluff or Spades! The one who wins… wins a 30 minute and oh so romantic head massage!
Plan a holiday together
What's a better time than when you're stuck inside to plan a romantic holiday? Go online and check out dream destinations, the places you'll want to see and the things you'll want to try. Who knows… you may end up finding out a lot of things you never knew about each other!
Build something together
It could be a picture frame or something more adventurous, like a bookcase. The best part is, even if the bookcase falls down when you load it with books, at least the two of you had a lot of fun during the process.
Create a Theme Night
Select a fun theme and create the whole day around it. For example, if you choose Paris as the theme, you could decorate the place to look like a French café and have delicious croissants, éclairs and sparkling juice. Then watch a movie like Amélie or Midnight in Paris. Some other fun theme ideas: Italian, Mexican, Asian, Christmas, Kid's theme, 1950′s or any decade… the list is endless.
Shut the world outside while you cosy up inside
Trust us, this will definitely be life changing for your relationship. Go an entire day without your phones. Try doing things like really talking to each other, cooking together, reading out loud or simply turning on the radio and dancing together. It will definitely be a creative, fun and adventurous day with your boyfriend that will go down in history!
It's time to karaoke
This is a truly magical way to spend an afternoon with your sweetheart. Plug in the karaoke and challenge one another to a battle of ballads. Who know… he may even serenade you with a special song.
These romantic and playful indoor date ideas are an ideal way to tap into your spontaneous side while enjoying quality time together. Perfect for a couple to do during the season of late summer. And most importantly, you will get away from those 'usual' dates that trap you into a boring routine. So spice up your relationship and let the fun times with your significant other begin!