How to make the perfect romantic mixtape in the digital age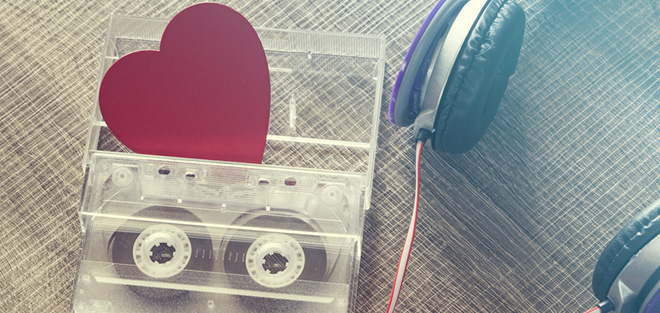 Don't you miss the good old days of mixtapes? They were the classic, nostalgic symbol of love and the most romantic gesture towards your beloved. Those were the days you would spend hours pouring over every music album you owned, searching for the best songs to include in your mix tape. The hardest part was trying to fit as many songs as you could into that 60-minute tape. And then finally the thrill of handing over your precious creation to that special someone and waiting with bated breath to see if he likes it… loves it… hates it! Gasp!
Alas, digital music today has taken quite a bit of the romance out of making a mixtape. Now you can post a track from Spotify on Facebook, export a playlist from iTunes and even send him an XML file. Some claim that mixtape-making is a forgotten art. But we disagree. Why not use the current age of the Internet to make your statements of love more creative, elaborate and most importantly, accessible!
Here are our tips on how to make what we like to call the 'modern-day mixtape':
1 – Pick a theme: Depending on whom you're making the mixtape for and the occasion,
pick a central theme. For instance, if you're giving a mixtape to your boyfriend for your 1st year anniversary, your theme could be 'Songs from our first date'. If on the other hand, you're making it for your crush, use a general theme like 'holiday chill mix' or 'songs for the perfect road trip'.
2 – Select the songs: Once you zero down on the theme, select songs that fit the message you want to communicate. You can use a blend of old and new songs, your favourites, his favourites, etc. Disclaimer: Ensure to use music that you have purchased or downloaded legally. What's more, using legally obtained music guarantees great sound-quality mp3s.
3 – Create the mixtape: You can make a CD, but today the most convenient form of storage is a USB drive. Make it fun by choosing a super cute heart-shaped one, a car or anything in a shape that he would love. Then copy the song files to the USB drive. How to do this will depend on the computer you're using. If you're not sure, ask someone for help. Finally, put the USB drive in a cute gift box, add a thoughtful note and you're done!
Since we've already shown you how to make the modern day mixtape, here are some #EnchanteurMixtape playlists to really turn up the romance in your life.
Songs from our First Date Mixtape:
1. Crazy little thing called love – Queen
2. Have I told you lately that I love you – Rod Stewart
3. Amazed – Lonestar
4. Crazy Love – Van Morrison
5. Wonderful Tonight – Eric Clapton
6. Thinking out loud – Ed Shereen
7. A Thousand Miles – Vanessa Carlton
8. Not a Bad Thing – Justin Timberlake
9. Just the Way You Are – Bruno Mars
10. Little Things – One Direction
11. Crazy in Love – Beyoncé ft. Jay Z
12. Adore You – Miley Cyrus
13. We Found Love – Rihanna ft. Calvin Harris
14. Still Into You – Paramore
15. Young and Beautiful – Lana Del Rey
Holiday Chill Mixtape:
1. Send Me On My Way – Rusted Root
2. One For the Road – Arctic Monkeys
3. Rome – Phoenix
4. Adventure of a Lifetime – Coldplay
5. The Long Way Around – Dixie Chicks
6. Vacation – Thomas Rhett
7. Fly Away – Lenny Kravitz
8. Magic Carpet Ride – Steppenwolf
9. The World at Large – Modest Mouse
10. Fly – Sleeping With Sirens
11. Freedom – Pharrell Williams
12. Australia – The Shins
13. Island in the Sun – Weezer
14. Day Tripper – The Beatles
15. Let's Leave – Ida Maria
Songs for the Perfect Road Trip Mixtape:
1. Mud on the Tires – Brad Paisley
2. Road Trippin – Red Hot Chili Peppers
3. Drive – Incubus
4. Cruise – Florida Georgia Line
5. Gasoline – Rob Thomas
6. Fast Car – Tracy Chapman
7. Runnin – Adam Lambert
8. Cadillac, Cadillac – Train
9. Behind the Wheel – Depeche Mode
10. Little Red Wagon – Miranda Lambert
11. Runaway Baby – Bruno Mars
12. One Headlight – The Wallflowers
13. Life is a Highway – Rascal Flatts
14. On the Road – Angus Stone, Julia Stone
15. Drive -Halsey
Falling in Love Mixtape:
1. Your Love Is My Drug – Kesha
2. Love Somebody – Maroon 5
3. Love Story – Taylor Swift
4. You and Me – Lifehouse
5. Wonderwall – Oasis
6. I'm Yours – Jason Mraz
7. Who You Love – John Mayer ft. Katy Perry
8. I'll Be – Edwin McCain
9. Fallin' For You – Colbie Caillat
10. Truly Madly Deeply – Savage Garden
11. Love You Like a Love Song – Selena Gomez and the Scene
12. As Long as You Love Me," Justin Bieber ft. Big Sean
13. My Love," Justin Timberlake ft. T.I.
14. (You Drive Me) Crazy – Britney Spears
15. Unconditionally – Katy Perry
If you follow these tips and use these #EnchanteurMixtape ideas, you should be able to make a really good digital mixtape that will surprise your significant other and put him in the mood for romance.