Never go wrong ever again with these Romantic 5 senses gifts for Her!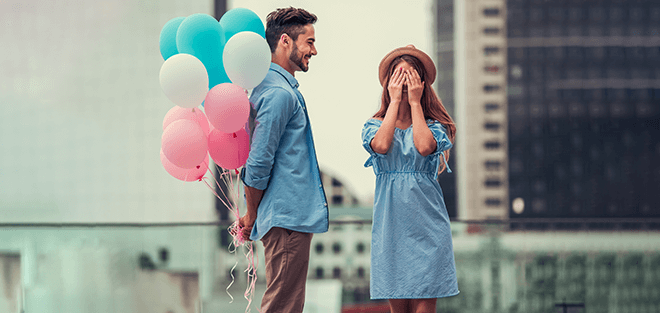 Buying your lady a gift can be quite challenging. After all, it has to be perfect and ignite romance which is all about warm, gooey feelings that overflow straight from the deepest parts of the heart…right? Well, nothing generates it more than finding a gift to make all these feelings come alive. What's more, if it's something that both of you can do together, it can be even more meaningful.
One of the best ways to experience this is to choose a gift based on the 5 senses – sight, touch, sound, taste and smell. Ideas could be created around memorable keepsakes or experience-oriented gifts. The fun part is finding a gift to satisfy and enliven each of the senses.
So to help you guys out and make your romantic lives much better, here are our ideas on Gifts for Her that are sure to represent or stimulate the basic 5 senses:
Gift of Sight –
Give her gifts that feed her artistic side, as women are visual beings who have a great appreciation for things of art.
1. Create a photomontage of your times together, travels and past celebrations. Then you both can keep going back to those moments, over and over again to relive the happy memories. It will only increase the love!
2. Gift her a painting class for two and take it with her! It's unconventional date idea, plus you get to keep a lasting memento of that experience together!
3. Take her to the ballet or opera. It could be a once-in-a-lifetime experience and an unforgettable moment.
Gift of Touch –
This can be the most sensual theme because women by nature love it when you make them feel adored by paying attention to her wellbeing.
1. Get her a warm, comfy and fluffy bathrobe. Every time she wears it, she'll feel like she's in your arms.
2. A gift basket filled with skin-mesmerising beauty products that include body lotion, shower gel and perfume. The Enchanteur Romantic range is perfect – it has a soft, wonderful scent that lingers the whole day, too.
3. A silk scarf – after all who doesn't love the feel of silk on the body!
4. Couple's Spa Day Gift Vouchers – a relaxing time together will definitely get the romance going.
Gift of Sound –
Nothing gets her heart beating faster than hearing you say 'I love you' in many different ways!
1. Karaoke night for two – you could serenade her with YOUR song!
2. Take her to the highest rooftop you can find or maybe go on a hike together to the top of a mountain and then shout your love for her from there. As she hears it, her heart will burst with joy.
3. Get her concert tickets to her favourite band or artist. You can go with her too.
Gifts of taste –
A way to a woman's heart is also through her stomach! These ideas can help her get a taste of your love.
1. Take her on a date to her favourite restaurant. Even if it's a cuisine you don't enjoy, making the effort to please her will definitely reap the rewards.
2. Cook her a meal – nothing is sexier than a man who is comfortable in the kitchen.
3. Plan a date to an orchard – picking strawberries can be quite fun and memorable together. Later, the two of you can enjoy the fruits with some delicious chocolate and cream.
4. Gift her a box of the most expensive and delicious box of chocolates you can find. Then sit and enjoy it together while watching a sappy, romantic movie (Her choice, of course!)
5. Sushi making workshop – this can be a unique experience. It can be fun, plus you both get to taste the sushi, too!
Gifts of Smell –
Did you know that a woman's smell senses are more sensitive than a man's? So here are some gift ideas that will be absolutely pleasurable to her nose!
1. There's nothing more a woman loves than a good smelling perfume. Try Enchanteur Gorgeous EDT. She will adore its enchanting scent and you will be driven senseless, every time she wears it around you.
2. Scented candles, incense – these are not only cute gift ideas, you can use them to create the mood for some romantic moments, too.
3. An aromatherapy massage for two – this could be a relaxing date idea.